So remember when we said we probably weren't gonna do the whole "hot sauce for rappers" thing? Yeah, we probably spoke too soon. Next out the gate is the "Mixtape Series" from Poor Vida Hot Sauce.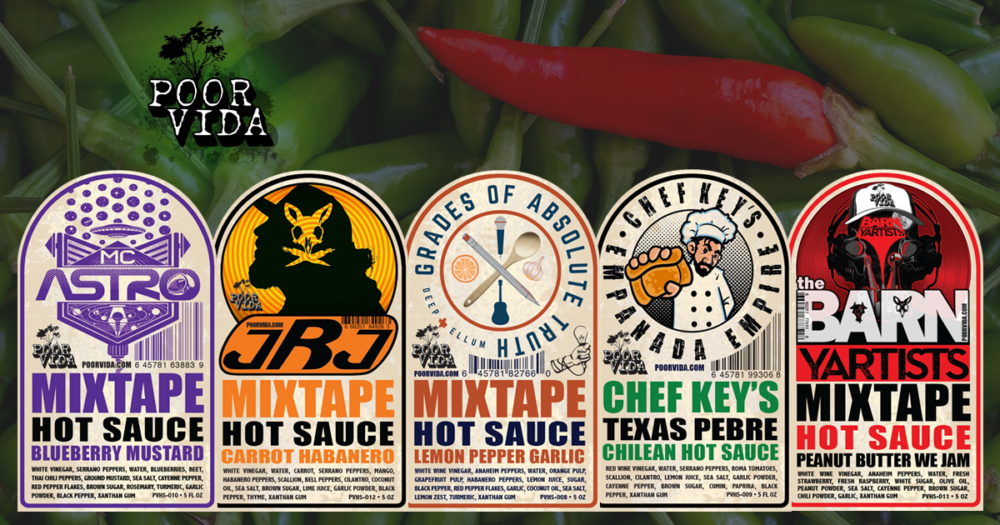 Coming in the next month or so we are releasing officially licensed hot sauces for some of our favorite artists in the DFW area. In fact, every single one of these guys was on the Southern Elements Tour with Poor Vida back in 2010.
Featuring MC Astro's Blueberry Mustard, Jackrabbit James' Carrot Habanero, Grades of Absolute Truth's Lemon Pepper Garlic, Chef Key's (Kilo Art-of-Fact) Texas Pebre, and a special "put some sauce on it" Peanut Butter We Jam from The Barnyartists.
We have some special plans to kick off this release, including a special promo song / video, and an official release party (maybe a series of them?), but before we get there, we have a favor to ask.
Poor Vida Hot Sauce so far has been 100% self funded and self sufficient. Ramping up to this level with an LLC, Manufacturing License, and Product Liability Insurance, as well as all the product documentation and contracting with a Commercial Kitchen has been done. But now the next level kicks in. We need to scale up production with a filling machine, a new round of labels, and more and bigger kitchen equipment.
We aren't looking for donations – we just want you to buy hot sauce! If we can sell out of the existing stock of Hot Sauce, we will have plenty of cash on hand for all the upgrades needed to launch the Mixtape Series right!
Thank you to everyone who has purchased so far, and everyone who has and will help make this launch take off for Poor Vida and these artists.